Formula 1 supremo Ross Brown has revealed three radical new concepts of cars in an ambitious step to make the racing even closer and more appealing for the 2021 season onwards.
Brawn explained the aim of the 2021 concepts, saying the goal was to create "cars that young people would want to stick up on their wall," and make the car less aerodynamically obstructive on the track.
"We've been working on a new car for 12 months now," said Brawn at a Friday press conference of the Singapore Grand Prix. "The aesthetics of the car is very important… We have great-looking F1 cars."
Brawn added that F1 designers have been working with aerodynamics experts to design a car that is not only great looking but also 'raceable'. He referred to the fact that current cars generate excessive amounts of dirty air, making it difficult for cars behind to operate at optimal performance.
Most importantly, perhaps, he said that time has now come to stop the reactive approach to car design which involved simply patching over problems. Instead, the new approach is proactive in its truest sense. Formula 1 will make the concept design available to all teams and the teams will provide positive feedback regarding what they think of the proposals.
"All ten teams are working toward finding the best solution we can for 2021," continued Brawn. "With the current cars, when they get to within two to three car lengths, they can lose 50% of performance, the tyres degrade more and it becomes very challenging. At the moment, we have (new) designs that only lose 20% – maintain 80%.
"One interesting thing we're looking at is the areas around the tyres. The airflow around the tyres and wheels is very dirty and disturbs the airflow quite a bit. We're not looking at inclosing the wheels, but perhaps add details around the wheels that could improve conditions for the car behind."
The concept designs have drawn mixed reaction from team principals and drivers alike, Ferrari Formula 1 team boss Maurizio Arrivabene reporting that his engineers think it is "a bit underwhelming" and "looks like an old Champ Car."
Lewis Hamilton, however, gave it a thumbs up on his Instagram account story feed. He posted, "I'm def gonna be driving if cars look like this… just please bring a V12 or V10 back."
Brawn concluded that the 2021 regulations would be available at the end of 2019, hoping it would not be much later because it would put smaller teams into a disadvantage.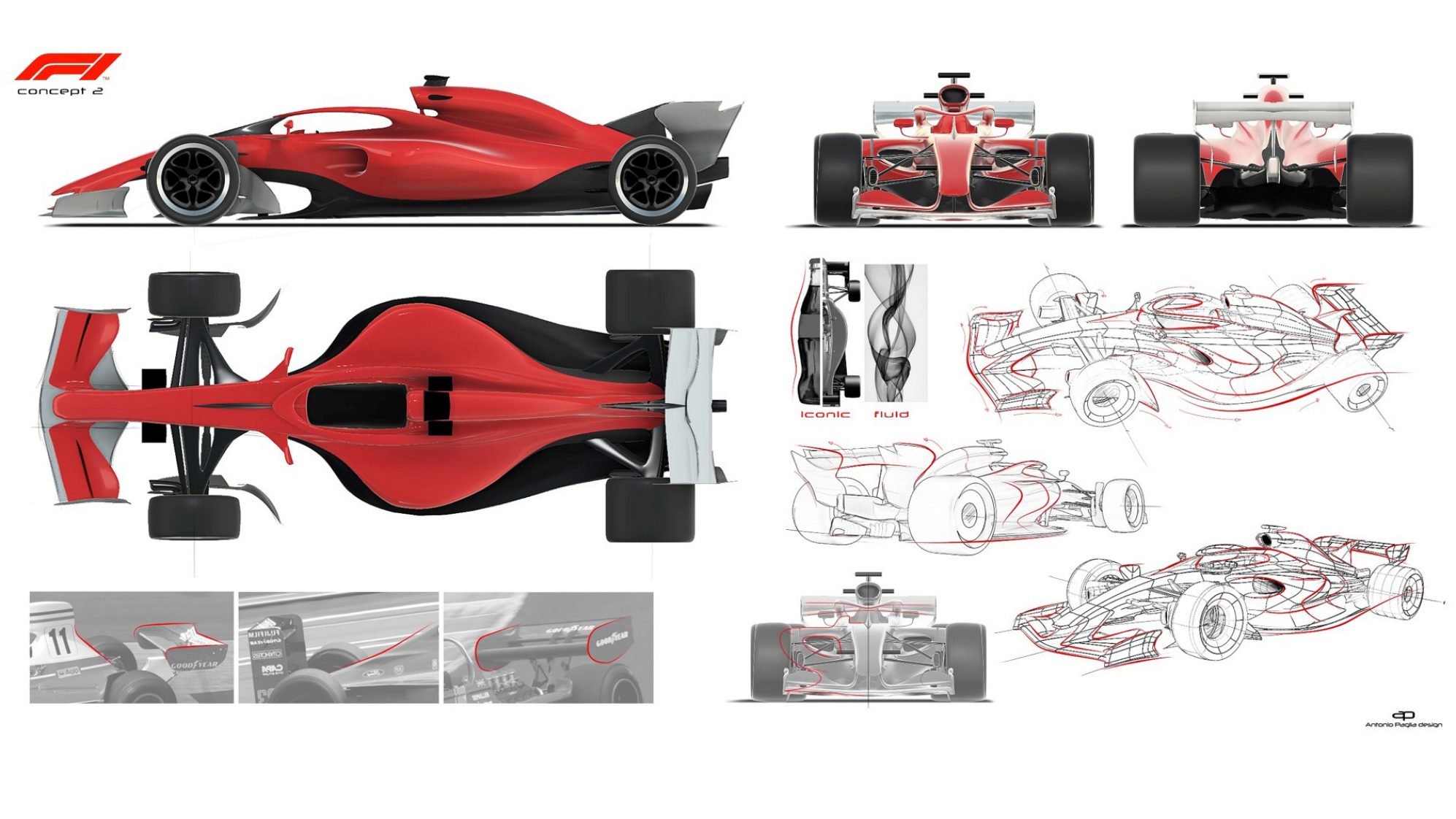 Images ©Formula 1.